What's Inspected During A Home Inspection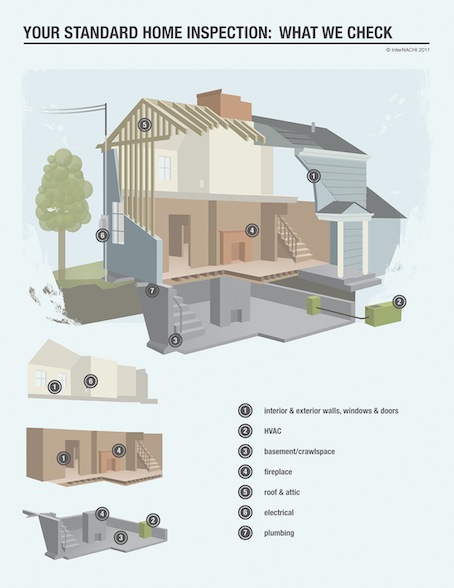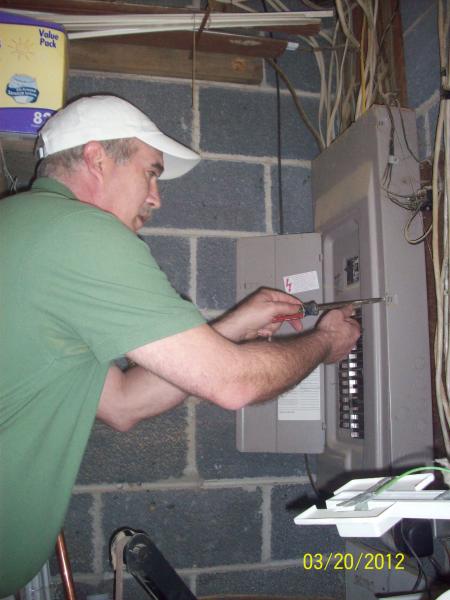 Every Home Inspector has his/her own way of performing the inspection. The following is a description of how I perform a typical Charleston Area Home Inspection. Hopefully you will be accompanying me during the inspection. We sill be spending a little time together, so if you would like to get to know me first,
please visit my Your Inspector page. Here is a description, or "tour" of a typical Inspection Connection Inspection. Whether I am performing a Home inspection in Putnam County, Kanawha, Logan, or Boone, I try to keep the process uniform when possible. I will inspect:
roof, vents, flashings and trim;
gutters and downspouts;
skylight, chimney, and other roof penetrations;
decks, stoops, porches, walkways and railings;
eaves, soffits and fascia;
grading and drainage;
basement, foundation and crawlspace;
water penetration and foundation movement;
heating system;
cooling system;
main water shut-off valve;
water heating system;
interior plumbing fixtures and faucets;
drainage sump pumps with accessible floats;
electrical service line and meter box;
main disconnect and service amperage;
electrical panel(s), breakers and fuses;
grounding and bonding;
GFCIs and AFCIs;
fireplace damper door and hearth;
insulation and ventilation;
garage doors, safety sensors and openers;
and much more.
When this is all completed, we will have a brief discussion about the
findings, you can ask any questions, and we will discuss any concerns or defects found. We will discuss maintenance items and procedures, and I will offer
any advice I am able to give. This will conclude the inspection at the site. With notes in hand, I will return to the office and prepare the report. Then, within 24
hours, the report will be in your hand, and you will be Connected!! Even after that, after you move in, you are always free to contact me about the property
and ask any questions that come to mind. That's what I do. I genuinely care about you, your home, and your concerns. In fact, if you purchased a
Home Warranty, call me before it's time to renew, and I will come back and Re-Inspect your home for FREE!!** That could possibly allow you to have
a problem addressed BEFORE your warranty expires. And that's what makes ME your BEST choice for Home Inspections in Charleston and ALL
surrounding Areas of Kanawha and Putnam Counties! If you would like to view a more detailed description of exactly what is and what is not covered,
please visit my Standards of Practice page. And if you haven't seen one yet, check out a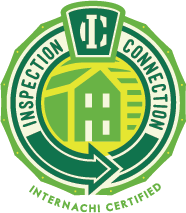 Michael Clark
Certified Home Inspector
** Free Re-Inspections are limited to Kanawha and Putnam Counties. Other counties receive free re-inspections, but a small mileage fee may apply.
Inspection Connection performs quality Home Inspections in South Charleston, Kanawha City, Winfield, Buffalo, Eleanor, and ALL surrounding areas of West Virginia